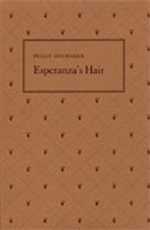 Esperanza's Hair (poems)
University of Alabama Press, 1985
Hardcover: 83 pages ISBN: 0-8173-0261-1
Paper: 83 pages ISBN: 0-8173-0262-X
Currently out of print. You may contact me—I have a few copies and would be pleased to autograph one for you. Contact peggyzoe@gmail.com.
ESPERANZA'S HAIR
PRAISE FOR THE BOOK
The craft and vision in these poems are extraordinary but what is shocking about his book is the poet's understanding of the order of things. Peggy Shumaker's poems have a sense for something in the outer world that is being powerfully displaced by something from the inner world—what I'm speaking of is felt in a family when a merciful death is both distanced and balanced with the ordeal of a welcome birth. What we have here finally is a book where experience turns into understanding—an exchange that is, for Shumaker, as natural and yet provoked as breathing itself.
—Norman Dubie
FROM THE BOOK
The Apple
Mother slices
the apple
without sawing,
twirls out
the blossom end,
the seeds with
one crisp swipe. Cross
sectioned womb,
one for me, one
for sister.
Mother with one
hand open
and one fist clenched.









CHAPBOOKS:
ANTHOLOGIES: